June 21st is the Northern Solstice and marks the shortest day here in the Southern Hemisphere. On the 21st the sunrise is around 7:48am and sunset 5:00pm in Wellington, giving just over 9 hours of potential sunshine for the capital. The timing of sunrise and sunset varies from location to location, sunrise in Gisborne being almost an hour earlier than in Invercargill.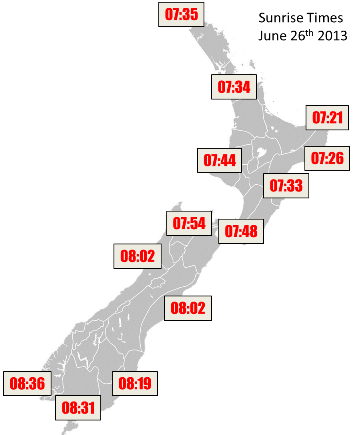 Map courtesy of Met Service
But it's hard to believe that it is winter, as we have been having such gorgeous weather lately. Warmish sunshine – only up to 15-16 degrees, not too bad for winter. A little chilly in the mornings and evenings, but that's to be expected, and we don't always feel the need to turn the heat pump on once the sun departs over the horizon early each evening. But the biggest bonus has been the lack of wind, the days have been lovely and calm, with the sunshine streaming through our windows all day. The clear blue sky and lack of wind means we may well get a touch of frost some mornings – but we can put up with that little inconvenience.
View over our back fence
And what would winter be without rugby? Robin is in seventh heaven with the
Lions Rugby Team
touring the country. They are playing against provincial teams as well as the mighty All Blacks. There is a whole lot of rugby to keep him glued to the TV screen, and of course, his New Zealand flag is on show for all the village to see.
Go – the All Blacks
And New Zealand is fighting another sports battle – this time for the
America's Cup
off the coast in Bermuda.
Emerites Team New Zealand
has got off to a good start – being in the final with Oracle, but we won't celebrate yet until the final race is a done deal. This is exciting TV watching too – those boats can fly!