What a surprise – we drove through to Palmerston North for Sunday lunch and a little shopping and found the city taken over by a multitude of bright, shiny Big Rigs. All driving around, tooting their horns, and seemed to be having a high old time. And the Square was swarming with people, we needed to see what was going on.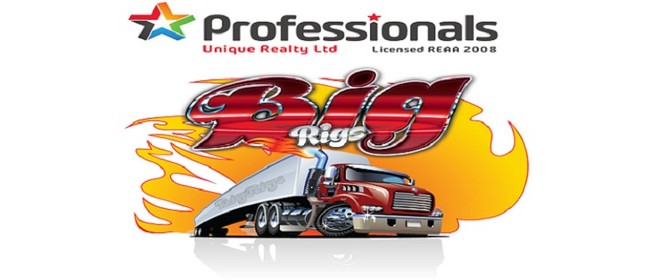 It was the Biannual Professionals Big Rigs event a fundraiser supporting Teenage and Child Cancer, with all money raised staying within the Manawatu Region. A very good cause indeed. With the very popular truck rides for $2.00 per person there was also plenty of entertainment in the square with static displays, raffles and live auction. A convoy of over 100 trucks, followed by a Helipro helicopter, drove through the city to begin the day yesterday. Manawatu children receiving treatment for cancer were treated to a ride-along and then a haka on arrival. It was very well organised indeed, people were loaded on to the big rigs on one side of the square, and offloaded on the other side. There were sturdy metal platforms to get everyone up and down safely. And those trucks who already had their share of passengers went on their way.
Loading up.
And yes, we had a turn too, queuing up in line and putting our $2 coins in the bucket. Our truck looked rather flash with a buttoned leather interior. The young driver did admit that it felt strange to be driving without his trailer unit behind, as all the trucks were. We were slowly driven around the circuit, with many toots along the way. What fun – although as Robin is a former truck driver, I probably enjoyed it more than him.
Our ride in the big rig
There were plenty of displays to check out, such as these stock cars, and a multitude of trucks lined up. There were quick fire raffles taking place, and plenty of stalls selling drinks, hot dogs, all sorts of refreshments.
The display showing just how big the blind spot is in front of these big rigs was quite sobering.
Showing the blind spot in front of a big rig
Over at the New Zealand Army display, throngs of kids poured over the inside and outside of the Light-Armoured Vehicle. Lance Corporal Peter Brown of the Queen Alexandra's Mounted Rifles said kids often saw the vehicles on Palmerston North roads but to get inside them was an experience many hadn't had.
Light Armoured Vehicle
There was a lot of interest when the Air Force helicopter was ready to depart. The public had to stand well clear of the area as the air turbulence was quite fierce. One of the volunteers told us that there was an awful lot of hoops to jump through to get permission for the helicopter to fly over, and land in the city centre. The noise was extremely loud as the rotors spun faster and faster, no wonder the crew all wear ear protectors. Then it lifted straight up, up, and away, to return to
RNZAF Base Ohakea
.
On the way back to Ohakea
With an estimated 15,000 people attending the event, the organisors can be assured of a successful fund raising day for the Manawatu Child Cancer Foundation. (We believe a sum of $40,000 has been raised, so well done to everyone involved.) The truckies are to be commended for donating their day and bringing along their shiny trucks for such a good cause. And it wasn't just the kids who loved their rides around town, we did too.